The Walking In My God Given Authority (WIMGGA) blog was created to Encourage, Equip and Empower all Women of God everywhere. As women we have a hefty load to carry in life and sometimes the load binds us or keeps us stuck in certain positions or places. Unfortunately, we often accept this predicament of bondage as we become complacent where we are by settling for less instead of breaking free from everything and everyone that binds us.
Jeremiah 29:11 states, "For I know the plans I have for you," declares the Lord, "plans to prosper you and not to harm you, plans to give you hope and a future." Based upon this declaration it was never God's intent that we stay stuck in a place of bondage. His desire is to prosper us as we continuously trust and rely upon Him.
This is a place where the Word of God is used as the weapon to break yokes of bondage off of women, God's daughters. Here you will find transparency and truth so liberation can be received by all who dare to want it. No longer do we want to merely claim liberation but we want to actually possess it. Together we will accomplish this goal by activating and walking in our God given authority. We shall degree and declare we have the power to overcome and win every battle within us and against the enemy.
Matthew 10:1 states, "Jesus called his twelve disciples to him and gave them authority to drive out impure spirits and to heal every disease and sickness." The same authority Jesus gave to the twelve disciples, He has freely given to us as women and His daughters. All we have to do is... Walk It Out!
Most of us can say we have experienced fear at least one time in our lives. This statement is probably true for all of us if we are to be real and honest. Truth be told, we experience fear more times than we like to admit. I don't know about you but I have to recite the Word continually and ask the Lord to renew my mind daily, so I won't be overtaken by fear. Can I just pause for a moment to ask God to forgive me for the many times I reacted out of fear and for the many times I operated out of fear instead of faith... Please forgive me Lord! It's okay if you need to take a moment to ask give for forgiveness too...
Fear is such a powerful emotion that it can stop us like a deer in headlights. Knowing a little about deer after hitting 4 of them, I realize that the eyes of a deer are geared for night vision and when its eyes are suddenly struck by the headlights of a car the animal becomes blinded. This blindness will cause the deer to just stand there and wait until its eyes adjust to the bright light. Even if the car continues to approach, the deer will not move until its vision is clear again. But, this waiting can prove to be very fatal for the animal not having the ability to move without clear vision.
I believe the fear we experience is similar to the lack of vision the deer experiences when it becomes blinded by the headlights. We become blinded and stuck in our fear and we cannot move. However, unlike the deer we do have the ability to move without clear vision. We can move out of our faith!!! Thank you Jesus, we do not have to stand mercilessly in fear because God has given every one of us a measure of faith. I am reminded of Hebrews 11:1 Now faith is confidence in what we hope for and assurance about what we do not see. When our physical eyes encounter blinding lights (distractions) we have to allow our spiritual eyes to take over and we have to see ourselves progressing to the other side.
Faith is so much more productive than fear yet, we struggle in our fear way too long. For example, we have the hardest time overcoming the fear of other people's opinions. My God, how many can say it wasn't actually the people who stopped us but it was the fear of what they may think about us? Fear says we are not good enough, we are too old or too young, we don't deserve to be successful, we don't have enough and whatever else you can negatively think of. However, our faith in God should kick in and cast down those thoughts because they go against the Word which is the "truth." Faith says we are good enough because we are still His children, age is nothing but a number and it is never too late or too early for God to use whomever He desires, because of Jesus we deserve every good and perfect gift from God, we can do all things through Christ who strengthens us, and we know God shall supply all of our needs according to His riches in glory. Take your physical eyes off the blinding lights and allow your spiritual eyes to focus on the truth so you can get out of harms way and keep moving.
You can no longer allow fear to block, stop or even kill your progress. No matter what you face or no matter what you have been afraid of, you must move and activate your faith right in the midst of your fears. You can and you will overcome fear as long as you walk by faith and not by sight. I don't know about you but this is a good time to ask the Lord to increase our faith. I know without a shadow of doubt that in our own strength we will stay stuck but if we trust our faith in God, we CAN and we SHALL do ALL things through Christ Jesus who strengthens us.
In conclusion, let faith not fear drive your decisions...
Lady J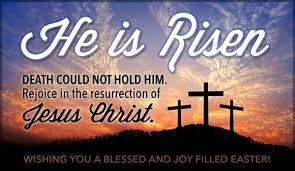 As Christians, this week represents our most sacred time of the year... Holy Week and Resurrection Sunday!!! Before I go any further, I just have to take a moment to say Thank You Jesus!!! My God, I am grateful for Calvary and even more grateful for His resurrection... That is exactly what this week is all about, being grateful for the death, burial and the resurrection of Jesus Christ. One more time... THANK YOU JESUS!!!
We have celebrated this sacred time year after year for centuries yet, I think we can all say that this year's celebration will be one for the ages. We are currently in the midst of the Coronavirus pandemic and many are calling for the cancellation of the Easter celebration. Due to the number of people affected by this virus we are under governmental orders to stay at home. As a result, most won't be able to attend the usual Easter egg hunts, they won't be able to go to the mall to get pictures taken with the Easter bunny nor they be able to wear their fancy Easter clothes to church because many churches are also closed due to this pandemic.
Although Easter may be canceled this year, the Resurrection celebration is NOT canceled!!! Oh no my brothers and my sisters, we should be more determined than ever to give God our BEST praise and worship for the Resurrection of our Lord and Savior, Jesus Christ!!! To be totally honest, this pandemic has made me more appreciative of what He did for us... My God!!! He took my place on that cross... He took your place too. Because we are sinful by nature, we were sentenced to death. But, God sent His Son, Jesus to die in our place because He loved us so much. Jesus paid the ultimate price for us because we were not able to pay the price for ourselves. Just imagine going to an upscale restaurant and you order the most expensive items on the menu. After you finish eating you go to pay the bill but you don't have enough money and someone comes and says I will pay it for you... Without hesitation or question this person pays "your" hefty bill that you couldn't afford to pay and you are free to go without paying. My, my, my that would be a reason to be eternally grateful.
Not only did He take our place and pay our debt but He was nailed to the cross with all of our infirmaties. Isaiah 53:4 says, Surely he took up our pain and bore our suffering yet we considered him punished by God, stricken by him, and afflicted. But he was pierced for our transgressions, he was crushed for our iniquities, the punishment that brought us peace was on him, and by his wounds we are healed. He carried the weight of the world on that cross with Him and there is no way we could've carried that much weight. We have issues carrying the weight of not being able to pay our electric bill, car payment or mortage payment let alone our sicknesses or diseases. As He carried that cross and as He was nailed to the cross every pain, disease and illness was added to His weight. The weight he carried on the cross with him was waaaaaaayyyyyyy too much for any of us to bear.
I am so glad He was strong enough to carry it all. That means that every sickness and disease has been conquered due to the death and resurrection of Jesus Christ. Even this Coronavirus is subject to the cross and we are healed!!! This Holy Week reminds us just how powerful our God is!!! The leaders of the world have no clue and they are going by trial and error to find the solution to the world's problems. But I know Jesus for myself and He healed me from Stage 3 cancer and He is able to heal this land from this horrible virus. I truly believe He wanted to get our attention so we could turn our hearts back to him especially during this time of year.
He has my attention, not just during this virus but even more so after we come out of it!!! So, on this Resurrection Sunday I am committed to giving God my best praise even in the confinement of my own home. I will reflect and celebrate the Resurrection of our Lord and Savior as if I was in my church building because my praise is not contingent on a location. I am determined to praise God anywhere and everywhere I go because I owe my life to Him and I owe Him the praise!!! If you believe like I do, come out of this confinement more committed to God because of Jesus Christ and His sacrifice for us all.
Lady J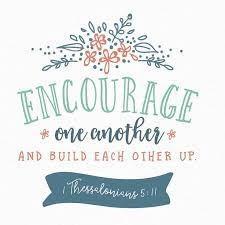 By nature I am an encourager. I love to speak life into people when they are hurting, feeling sad and on the verge of giving up. It is easy for me to find the words and prayers to uplift and encourage others however, if I am totally honest it was not as easy for me to encourage myself. I believe many of us have struggled with encouragement in one form or another. Either we find it hard to encourage others or we find it hard to encourage ourselves.
One thing I know for sure is that all of us, regardless of race, gender or age, we need encouragement. Thus, it is paramount that we work on our encouragement skills as they relate to others and ourselves. A continued lack in the ability to encourage can have a detrimental impact on someone's spiritual, physical, mental and/or emotional growth. I am at a point in my life where I no longer want to be responsible for stopping or stunting anyone's growth. A lack of encouragement has caused many people to give up and quit assignments prematurely or caused them to give up on living life.
We have to encourage so we won't have unfulfilled purposes or assignments in the earth realm. Encouragement is also necessary so we won't have "zombies" or people just existing in this world and not living. So many are going through this life without encouragement to seek or fulfill their purpose. Not a nary nother person do I want to loose on my watch!!! Although I don't have the power to save, heal, deliver or set free, I do have the power to encourage.
Encouragement is synonymous with support. You could say giving encouragement is simply supporting someone by giving confidence or hope to do something or to continuing to do something, especially if the result will be beneficial to the person. Today, I want to encourage each and every one of you to stay the course. I encourage you to not quit or give up prematurely on your assignment because someone in this world is depending on you to be successful. I encourage you to live out your true purpose in life so you can hear the Lord say "Well Done My Good and Faithful Servant." You can do it! Whatever, your "it" is, keep striving through all of the obstacles and endure until the end because the reward will be worth it. Be Encouraged!!!
Lady J