The Walking In My God Given Authority (WIMGGA) blog was created to Encourage, Equip and Empower all Women of God everywhere. As women we have a hefty load to carry in life and sometimes the load binds us or keeps us stuck in certain positions or places. Unfortunately, we often accept this predicament of bondage as we become complacent where we are by settling for less instead of breaking free from everything and everyone that binds us.
Jeremiah 29:11 states, "For I know the plans I have for you," declares the Lord, "plans to prosper you and not to harm you, plans to give you hope and a future." Based upon this declaration it was never God's intent that we stay stuck in a place of bondage. His desire is to prosper us as we continuously trust and rely upon Him.
This is a place where the Word of God is used as the weapon to break yokes of bondage off of women, God's daughters. Here you will find transparency and truth so liberation can be received by all who dare to want it. No longer do we want to merely claim liberation but we want to actually possess it. Together we will accomplish this goal by activating and walking in our God given authority. We shall degree and declare we have the power to overcome and win every battle within us and against the enemy.
Matthew 10:1 states, "Jesus called his twelve disciples to him and gave them authority to drive out impure spirits and to heal every disease and sickness." The same authority Jesus gave to the twelve disciples, He has freely given to us as women and His daughters. All we have to do is... Walk It Out!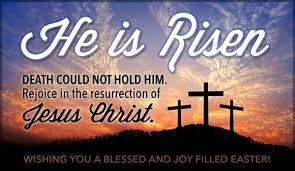 As Christians, this week represents our most sacred time of the year... Holy Week and Resurrection Sunday!!! Before I go any further, I just have to take a moment to say Thank You Jesus!!! My God, I am grateful for Calvary and even more grateful for His resurrection... That is exactly what this week is all about, being grateful for the death, burial and the resurrection of Jesus Christ. One more time... THANK YOU JESUS!!!
We have celebrated this sacred time year after year for centuries yet, I think we can all say that this year's celebration will be one for the ages. We are currently in the midst of the Coronavirus pandemic and many are calling for the cancellation of the Easter celebration. Due to the number of people affected by this virus we are under governmental orders to stay at home. As a result, most won't be able to attend the usual Easter egg hunts, they won't be able to go to the mall to get pictures taken with the Easter bunny nor they be able to wear their fancy Easter clothes to church because many churches are also closed due to this pandemic.
Although Easter may be canceled this year, the Resurrection celebration is NOT canceled!!! Oh no my brothers and my sisters, we should be more determined than ever to give God our BEST praise and worship for the Resurrection of our Lord and Savior, Jesus Christ!!! To be totally honest, this pandemic has made me more appreciative of what He did for us... My God!!! He took my place on that cross... He took your place too. Because we are sinful by nature, we were sentenced to death. But, God sent His Son, Jesus to die in our place because He loved us so much. Jesus paid the ultimate price for us because we were not able to pay the price for ourselves. Just imagine going to an upscale restaurant and you order the most expensive items on the menu. After you finish eating you go to pay the bill but you don't have enough money and someone comes and says I will pay it for you... Without hesitation or question this person pays "your" hefty bill that you couldn't afford to pay and you are free to go without paying. My, my, my that would be a reason to be eternally grateful.
Not only did He take our place and pay our debt but He was nailed to the cross with all of our infirmaties. Isaiah 53:4 says, Surely he took up our pain and bore our suffering yet we considered him punished by God, stricken by him, and afflicted. But he was pierced for our transgressions, he was crushed for our iniquities, the punishment that brought us peace was on him, and by his wounds we are healed. He carried the weight of the world on that cross with Him and there is no way we could've carried that much weight. We have issues carrying the weight of not being able to pay our electric bill, car payment or mortage payment let alone our sicknesses or diseases. As He carried that cross and as He was nailed to the cross every pain, disease and illness was added to His weight. The weight he carried on the cross with him was waaaaaaayyyyyyy too much for any of us to bear.
I am so glad He was strong enough to carry it all. That means that every sickness and disease has been conquered due to the death and resurrection of Jesus Christ. Even this Coronavirus is subject to the cross and we are healed!!! This Holy Week reminds us just how powerful our God is!!! The leaders of the world have no clue and they are going by trial and error to find the solution to the world's problems. But I know Jesus for myself and He healed me from Stage 3 cancer and He is able to heal this land from this horrible virus. I truly believe He wanted to get our attention so we could turn our hearts back to him especially during this time of year.
He has my attention, not just during this virus but even more so after we come out of it!!! So, on this Resurrection Sunday I am committed to giving God my best praise even in the confinement of my own home. I will reflect and celebrate the Resurrection of our Lord and Savior as if I was in my church building because my praise is not contingent on a location. I am determined to praise God anywhere and everywhere I go because I owe my life to Him and I owe Him the praise!!! If you believe like I do, come out of this confinement more committed to God because of Jesus Christ and His sacrifice for us all.
Lady J